A former business associate of Hunter Biden and Devon Archer has turned on the pair after he decided they had used him as the fall guy in a stock fraud scheme. Bevan Cooney reached out to author Peter Schweizer from his jail cell and he revealed how Hunter Biden and his associates were able to get an off the record meeting with Joe Biden.
One such meeting included Chinese businessmen as well as members of the Chinese communist party. Cooney had given Schweizer his email address along with his login and password. These emails are separate from the Hunter Biden emails. There are even more explosive emails yet to be released.
Cooney thought he had been set up to take the fall for Biden and Archer and that is why he decided to turn over his emails. Biden was never charged. Archer was tried and found guilty. But his conviction was overturned by a federal judge but then it was recently reinstated by an Appellate Court. He is now awaiting sentencing.
The emails detail how Hunter and his business associates used Biden's name and father to arrange meetings with the then vice president and others in the White House. One such meeting included Chinese executives and government officials. The group was known as the China Entrepreneur Club (CEC). The group included Chinese billionaires, Chinese Communist Party loyalists, and at least one "respected diplomat".
The CEC is also known as the second "a second foreign ministry" for the People's Republic of China. The group was formed in 2006.
file:///C:/Users/poet7/Downloads/480341820-Re-China-Entrepreneurs-Club-a-pdf.pdf
Re China Entrepreneurs Club… by Breitbart News
CEC's leadership boasts numerous senior members of the Chinese Communist Party, including Wang Zhongyu ("vice chairman of the 10th CPPCC National Committee and deputy secretary of the Party group"), Ma Weihua (director of multiple Chinese Communist Party offices), and Jiang Xipei (member of the Chinese Communist Party and representative of the 16th National Congress), among others.

"I know it is political season and people are hesitant but a group like this does not come along every day," an intermediary named Mohamed A. Khashoggi wrote on behalf of the CEC to an associate of Hunter Biden and Devon Archer. "A tour of the white house and a meeting with a member of the chief of staff's office and John Kerry would be great," Khashoggi said before including what should have been a major red flag: "Not sure if one has to be registered to do this." Presumably, Khashoggi meant a registered lobbyist under the Foreign Agents Registration Act (FARA).
Indeed, the email boasted of CEC's wealthy membership:
CEC's current membership includes 50 preeminent figures such as: Liu Chuanzhi, Chairman of the CEC, Legend Holdings and Lenovo Group; Wu Jinglian, Zhang Weiying, and Zhou Qiren, China's esteemed economists; Wu Jianmin, respected diplomat; Long Yongtu, representative of China's globalization; Wang Shi (Vanke); Ma Weihua (China Merchants Bank); Jack Ma (Alibaba Group); Guo Guangchang (Fosun Group); Wang Jianlin, (Wanda Group); Niu Gensheng (LAONIU Foundation); Li Shufu (Geely); Li Dongsheng (TCL Corporation); Feng Lun (Vantone) and etc.
The CEC boasts an income amounting to 4% of the Chinese GDP. They had tried on their own to get a meeting with White House officials but they were rebuffed. That's when they reached out to Hunter and his associates who were able to set up the meeting in the White House with Joe Biden. But Biden has repeatedly denied that he had any knowledge of Hunter's business dealings.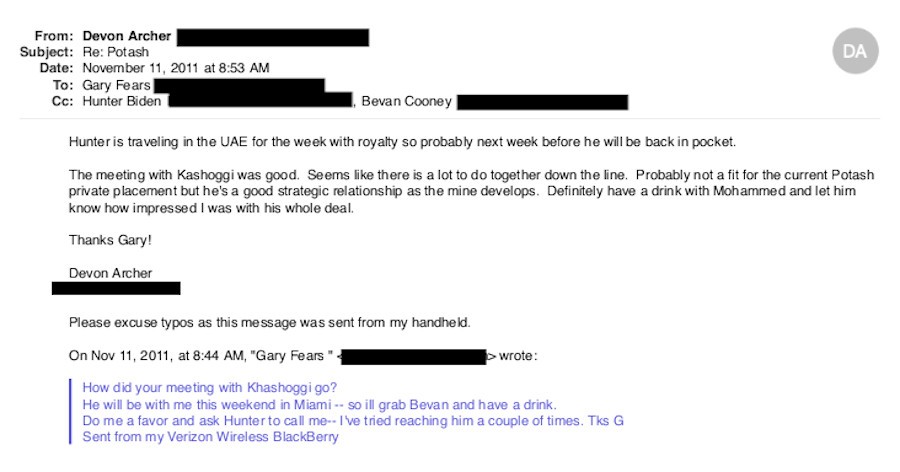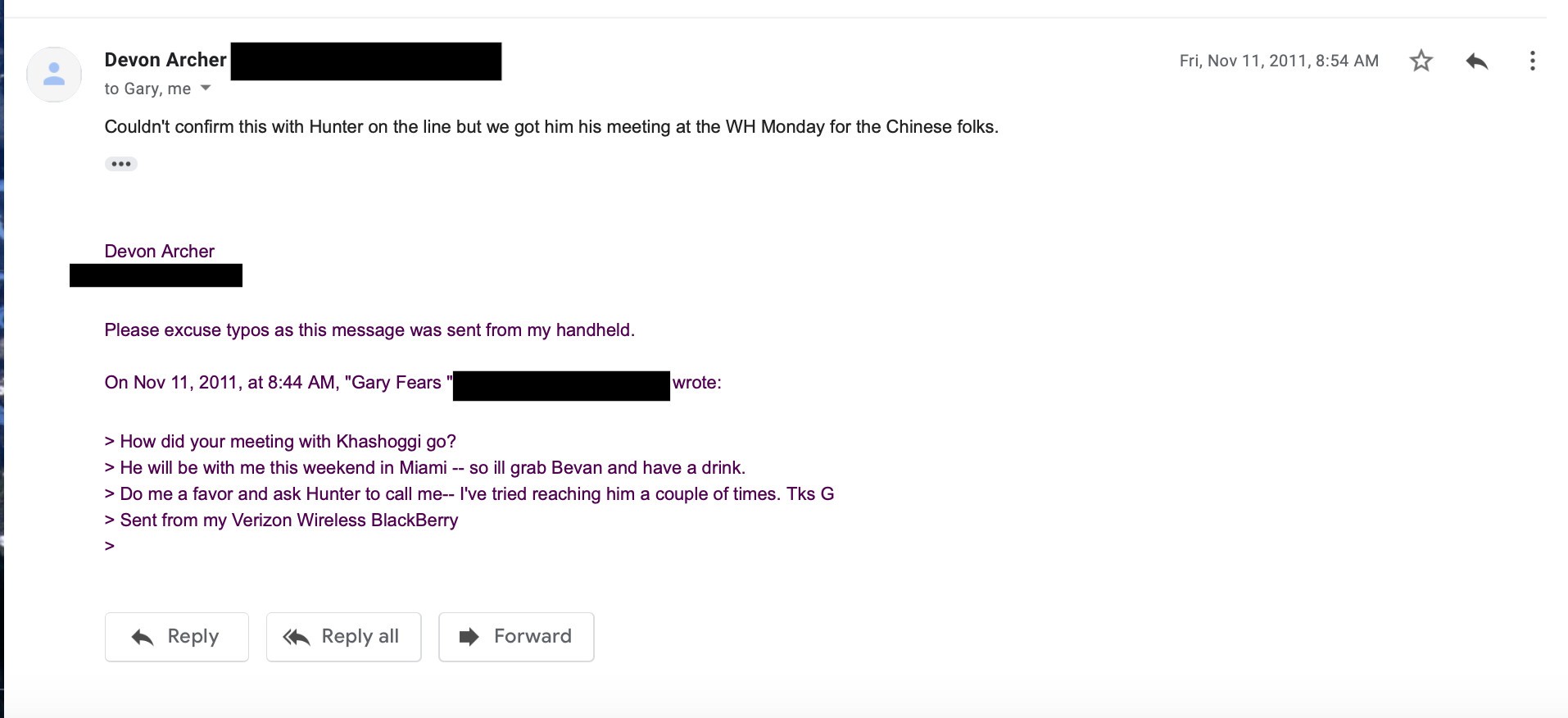 And so the meeting was set up and the CEC met with Vice President Biden and Commerce Secretary John Bryson.
This keeps getting better and better.