Chairman of the Senate Homeland Security and Governmental Affairs Committee, Ron Johnson (R-WI] has asked the DOJ IG, Michael Horowitz, to investigate the way the FBI handled the Hunter Biden laptop.
The laptop is the October Surprise released by the New York Post. Photos allegedly show naked pictures of Hunter Biden with an underage girl.
There is also a picture of him sleeping with a crack pipe in his mouth and some other incriminating emails.
Some of them point to financial crimes. Apparently, Hunter had money showered on him in exchange for access to his daddy. The emails prove that Joe Biden knew exactly what Hunter was up to, despite his frequent denials.
Hunter had dropped the laptop off at a repair shop, where he signed the receipt promising payment. But, he never went back to pick it up. After 90 days, it is considered abandoned property and then becomes the property of the shopkeeper. He turned the information over to Rudy Giuliani.
According to an anonymous source about 1/3 of all of the pictures were of the same 14-year-old girl, who is a relative of Hunter's. He also appears in some of the photos with the girl. The FBI is being very uncooperative.
"On September 24, 2020, the day after Chairman Grassley and I released our report titled, "Hunter Biden, Burisma, and Corruption: The Impact on U.S. Government Policy and Related Concerns," a whistleblower contacted my committee and informed my staff that he had possession of a laptop left in his business by Hunter Biden. He also informed us that he provided its contents to the Federal Bureau of Investigation (FBI) in response to a December 9, 2019 grand jury subpoena," Johnson wrote.

"As the first step in our due diligence, committee staff contacted FBI officials and asked for confirmation of certain facts in an attempt to validate the whistleblower's claims and assertions. Unfortunately several days later, the FBI responded that it would not confirm or deny any information identified by committee staff even though several of the questions were not related to the possible existence of an ongoing grand jury investigation."

"I respectfully request that your office open an investigation into the FBI's handling of the laptop allegedly belonging to Hunter Biden," Johnson wrote.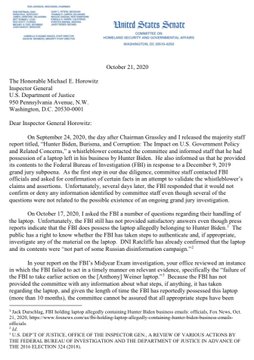 The FBI sat on the laptop during the impeachment hearings and during the Joe Biden campaign for president, even though he is compromised. It's time to start cleaning house over there starting with Christopher Wray.