The opinions expressed by columnists are their own and do not necessarily represent the views of David Harris Jr.
Iran's president Rouhani makes no secret of the fact that he despises Israel. A recent comment he made about the nation referred to it as a "cancerous tumor". He's also pointedly expressed his disdain for President Trump, no doubt because Trump put a crimp in Iran's nuclear aspirations by pulling out of the deal struck by former president Obama and imposed sanctions against Iran in recent months.
More from Fox News: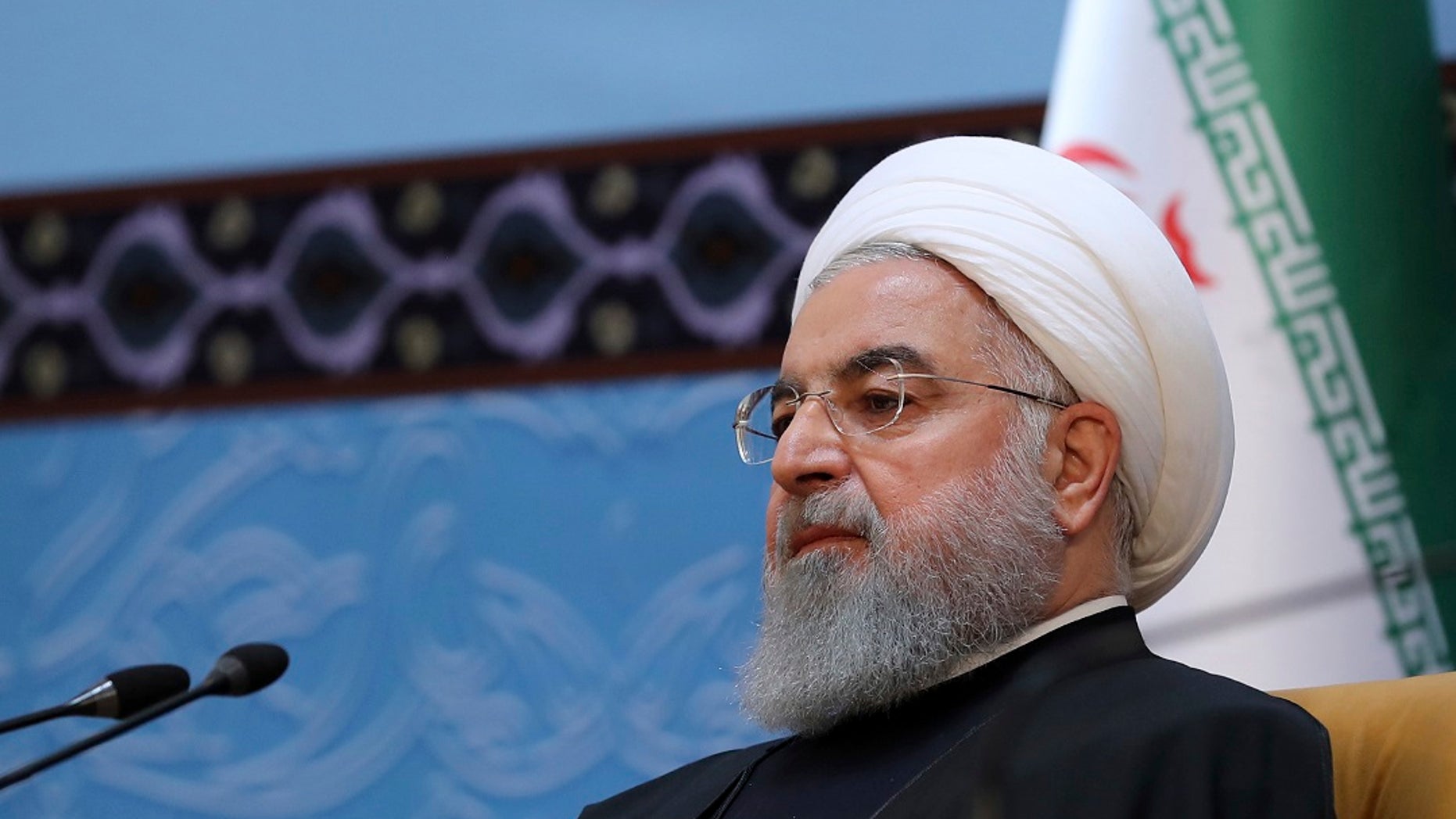 Iranian President Hassan Rouhani attends an annual Islamic Unity Conference in Tehran on Saturday. (Associated Press)
Iran's leader calls on Muslims to unite against US, refers to Israel as 'cancerous tumor'

Iranian President Hassan Rouhani on Saturday called on the world's Muslims to unite against the United States, as his country grapples with another round of sanctions recently reimposed by the Trump administration.

"Submitting to the West headed by America would be treason against our religion … and against the future generations of this region," Rouhani said at the Islamic Unity Conference in Tehran, in a speech broadcast live on state television, Reuters reported.

Earlier this month, Trump reimposed sanctions on Iran that cover the country's shipping, financial and energy sectors months after pulling the U.S. out of the 2015 Iran nuclear deal negotiated by the Obama administration.

The U.S. has said the sanctions are intended to prevent Iran from supporting militant groups and its development of long-range ballistic missiles.

In addition to the U.S., Rouhani also criticized Israel, calling it a "cancerous tumor" established by Western nations to advance their interests in the Middle East. Iranian leaders have pledged support to groups like Hezbollah and Hamas that are committed to Israel's destruction.

Rouhani also took aim at regional rival Saudi Arabia.

"We have a choice to either roll out red carpets for criminals or to forcefully stand against injustice and remain faithful to our Prophet, our Quran and our Islam," he said.

The countries have supported opposite sides of several conflicts, including the ongoing civil wars in Syria and Yemen.

Earlier this year, Iran's spiritual leader, Ayatollah Ali Khamenei, also called on Muslim nations to unite against the U.S.
Source: Fox News
It's SO good to know that we have a president at the helm who will defend the interests of the USA first, last, and foremost! If we had anyone else, especially Crooked Hillary, we would have been on a downhill slide that would have taken the country down the drain. The Iranian president has left no doubt as to the intentions of the Muslim aggression towards not only the US but the entire world…total domination. It just happens that the USA and Israel are at the focal point of his attention at the moment. I don't have an inside track on what kind of plans may be in place to stop the onslaught, but we can at least have confidence that President Trump will do his best to see to it that we will Make America Great Again.
Tired of the social media giants "babysitting"? Join us here. 
For David's Uncorked products, check them out here!
To stay up to date with David's No Nonsense News, make sure to subscribe to his newsletter on his website and follow him on Facebook, Twitter, Instagram, and YouTube @DavidJHarrisJr
My book is here! And I personally handed a copy to our President at the White House!!! I hope you enjoy it @realDonaldTrump! Thank you @RealCandaceO for writing the foreword for it!!!
(Order Link in my bio:)#BLEXIT #Woke #WeTheFree #WalkAway pic.twitter.com/wgpobjQt1P

— David J Harris Jr (@DavidJHarrisJr) November 3, 2018
David's new book "Why I Couldn't Stay Silent" is available and selling like hotcakes! You don't want to miss it! Click the tab "Book" on the Home Page on his website.