In the article 76K MIGRANTS ENTERED THROUGH SOUTHWEST US BORDER IN FEBRUARY, THE MOST IN 12 YEARS, PER THE CBP we reported a 12-year high in illegals' traffic coming across our southern border. That's just the ones we were able to record and says nothing about how many got in undetected. We exposed more of the projections in the article WAPO REPORTS BORDER RUSH MAY HIT 100,000 ILLEGALS IN MARCH. The numbers didn't quite make it to 100,000, but they weren't too far off.
This from Breitbart:
U.S. Customs and Border Protection officials announced on Tuesday that Border Patrol agents apprehended more than 92,000 migrants after they illegally crossed between points of entry in March. The apprehensions represent a 35 percent increase over February's numbers. So far this fiscal year, Border Patrol agents apprehended more than 385,000 migrants.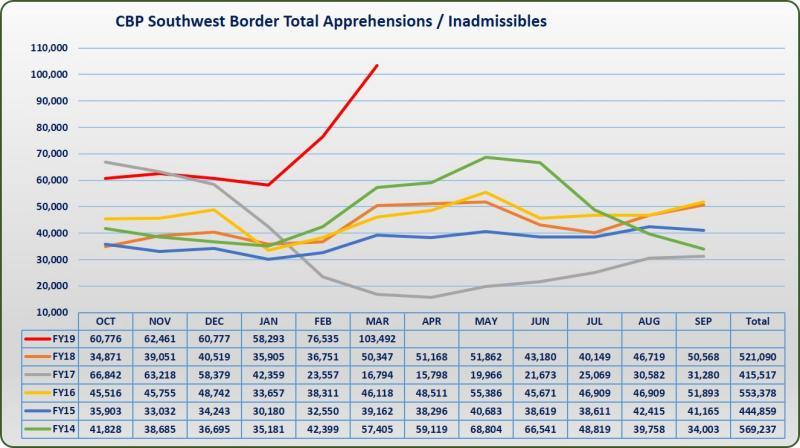 The massive number of apprehensions in March follows February's Southwest Border Migration Report showing more than 66,000 migrants apprehended after illegally crossing the border between ports of entry. February's report indicated the highest number of apprehensions in more than 12 years, officials said.
Of the more than 92,000 migrants apprehended after illegally crossing the border, 33,000 were Family Unit Aliens, 8,900 were Unaccompanied Alien Children, and 30,000 were single adults.
Hastings reported that Family Unit Alien apprehensions for this fiscal year are up 375 percent over the previous year's numbers.
The record number of migrant family apprehensions forced Border Patrol leaders to divert 40 percent of agents from their national border security duties and place them on humanitarian duties including processing, transportation, medical screening, and hospital watch, Hastings stated. Currently, Border Patrol agents are referring 63 migrants per day to medical facilities at a tremendous cost to the agency and taxpayers. Hastings said that Border Patrol has spent $4 million on "hospital watch" so far this year. This cost is for the agents who have to stay with migrants who are in the hospital due to illness or injury. This is on pace to exceed $12 million for this fiscal year.
He predicted that the agency will make more than 31,000 hospital referrals in FY 2019 compared to about 2,000 for all of last year.
In total, Hastings predicted that the Border Patrol budget will be depleted by more than $90 million for cost related to the humanitarian services created by the current crisis.
Source: Breitbart News
Those numbers are astounding. One detail that should catch your attention is the number of migrants being held for health issues. We already know that medical resources are being strained beyond tolerance by the illegals who come in for free medical care, but I think a particularly serious aspect of it is the diseases that are reappearing that we had previously eradicated in the USA. Even the ones commonly thought of as childhood diseases such as measles have spiked, and that seems like a harbinger of worse things to come if we don't get the floodgates closed.
When looking at the bigger picture, the most obvious thing should be the huge financial burden this mess puts on the backs of Americans. There are so many Americans (homeless war veterans come to mind immediately) who I think we should be taking care of first ahead of all the illegals. I don't believe we were ever intended to be the babysitter for the rest of the whole world and get stuck spoon-feeding illegals whose presence contribute nothing to the USA. It's past time to get the wall built and make some major upgrades to our immigration laws.
---
To try Amazing and All Natural supplements that our founder David J Harris Jr had developed, click here!
My book is here!  And I personally handed a copy to our President at the White House!!! I hope you enjoy it @realDonaldTrump!
BOOK – Why I Couldn't Stay Silent
Thank you @RealCandaceO for writing the foreword for it!!! #BLEXIT #Woke #WeTheFree #WalkAway
Follow David on Facebook, Twitter, Instagram, Patreon and YouTube @DavidJHarrisJr